Today, I am trying a new Chinese recipe on pan fried tofu. It is a pretty easy Chinese dish to prepare. So, if you like tofu and would like to give this chinese recipe a try, just follow along.
Ingredients:
Egg tofu                          2-3 rolls
Mushrooms                    4
Chili                                2
Spring onion                  2 stalks
Minced meat                  100 gram
Egg                                2
Minced garlic                 1 tablespoon
Tapioca starch water     1 tablespoon of tapioca starch + 2 tablespoon of water
Seasonings:
Spicy bean paste    1 tablespoon
Oyster sauce          1 tablespoon
Sesame oil              2 tablespoon
Sugar                      1 tablespoon
Water                      2 tablespoon
Method:
1. Cut each tofu roll into small pieces.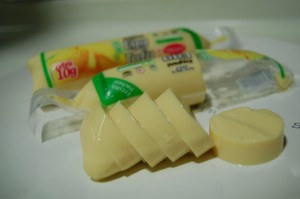 2. Soak mushrooms to soften and cut off the stems.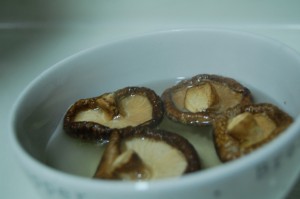 3. Cut spring onion, chili and mushrooms into small cubes. For cutting mushrooms, it is easier to cut using scissors!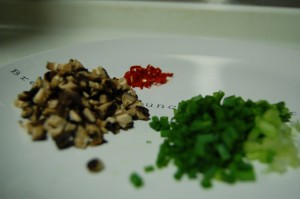 4. Heat the frying pan and pour some oil into it. Here is a personal tip that I used to prevent oil splatters. Simply use some paper napkins to dry the tofu first before sending them into the frying pan. It really helps to avoid getting oil burns which I really hate. Once you have done the drying part, pan fry the tofu till golden brown.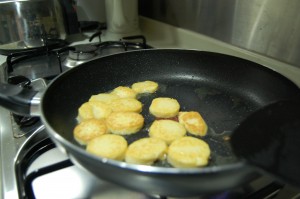 5. Use some oil to fry minced garlic.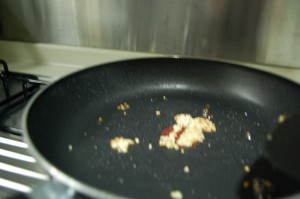 6. Add spring onion, chili, mushrooms and minced meat to fry.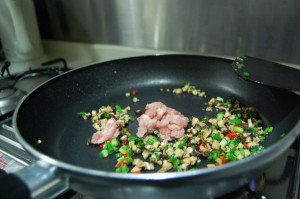 7. Add in seasonings and thicken with tapioca starch water.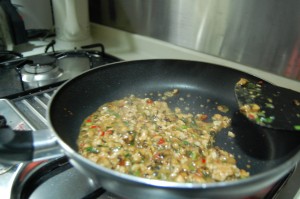 8. Heat the frying pan and pour some oil. Beat the egg and pour it evenly on the frying pan.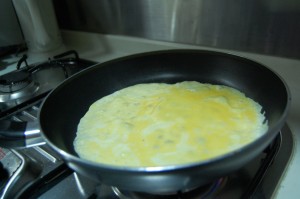 9. Lay pan fried tofu and minced meat mixture on top.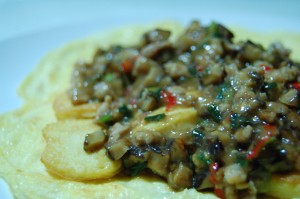 Preparation time  : 10 minutes
Cooking time       : 15 minutes
My hubby likes this pan fried tofu! But be prepared to mop the floor a few times as pan-frying the tofu made the kitchen floor oily.
No related posts.