This braised chinese dish takes longer time to cook, but it's worth your time as it is very delicious.
Ingredients:
Pork belly    400 gram
Sweet pea   100 gram
Star anise    2
Ginger         2 slices
Seasonings:
Dark soy sauce    2/3 cup
Wine                    1/4 cup
Rock sugar           3 tablespoon
Method:
1. Blanch pork belly in boiling water for 1 minute.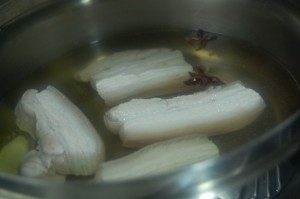 2. Rinse the pork belly, place in a pot of water with star anise, ginger, wine and 3 cups of water. Cook for 1 minute, remove and set aside the cooking liquid.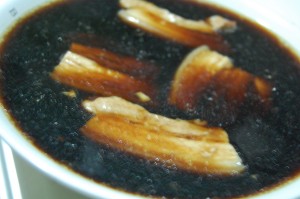 3. Place pork belly on a steaming plate. Add seasonings and the cooking liquid. Cover with aluminium foil. Bring water in the steamer to a boil. Steam pork belly over high heat for 3 hours until the pork turn soft.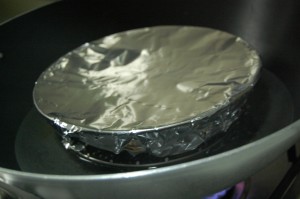 4. Blanch sweet peas in  boiling water. Place on a plate with pork belly.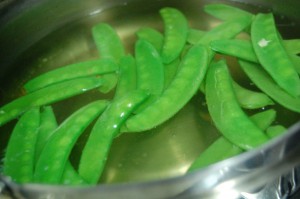 5. Pour cooking liquid into a pot, boil over high heat. Stir as you cook until the liquid becomes thick.
6. Pour over the pork belly slices to serve.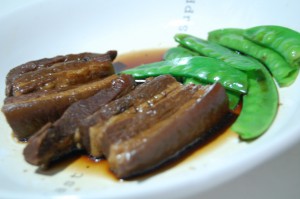 Preparation time: 10 minutes
Cooking time       : 3 hours
Blanch the pork belly before cooking prevent the blood water from affecting the flavour of this chinese dish.
Related posts: