Another Chinese steamed recipe…
Ingredients:
Chicken            500 gram
Kailan               200 gram
Ham                 50 gram
Minced garlic   2 tablespoon
Ginger              2 slices
Potato starch   A little
Oil                    2 tablespoon
Marinade:
Dark soy sauce      1 tablespoon
Salt                        1/4 tablespoon
Wine                      1 tablespoon
Pepper                  1/2 tablespoon
Seasonings:
Oyster sauce     2 tablespoon
Salt                    1 tablespoon
Sesame oil        1 tablespoon
Pepper              1/2 tablespoon
Method:
1. Chop chicken into pieces, mix well with ginger and marinade. Set aside for 15 minutes.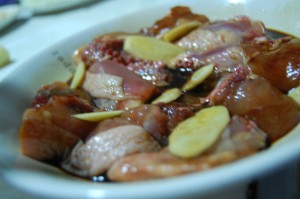 2. Cut ham into slices, place on a plate together with the chicken. Bring water in the steamer to a boil. Steam chicken and ham over high heat for 20 minutes. Remove and drain away the steaming liquid.
3. Bring water of another pot to a boil, add some oil and salt. Blanch kailan and drain well.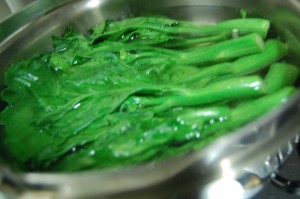 4. Place kailan on a steaming plate, arrange chicken and ham alternately.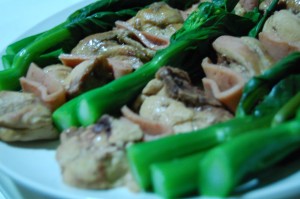 5. Heat 2 tablespoon of oil and fry minced garlic over low heat until fragrant. Add seasonings and bring to a boil. Thicken with potato starch mixture.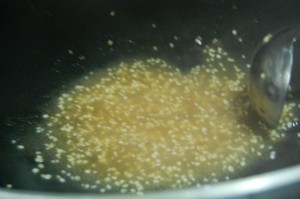 6. Drizzle over the chicken and ham to serve.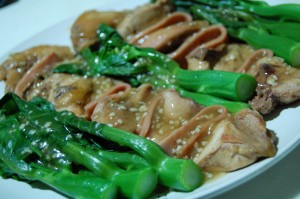 Preparation time: 5 minutes
Marinade time   : 15 minutes
Cooking time     : 25 minutes
Make sure that the chicken pieces are not too big so that the chicken will be cooked through evenly.
Related posts: