Today on Easy Chinese Recipes, I am going to share with you another tofu dish. This is a rather interesting Chinese dish as its design is rather special. Don't worry though about the time needed though as this Chinese can still be done within one hour.
To get things going, below are the ingredients you need for this crispy tofu balls recipe.
Ingredients:
Tofu                   300 gram
Minced meat     100 gram
Shrimps            100 gram
Mushrooms       5
Egg                   1
Buns                  3
Seasonings:
Salt                   1 tablespoon
Pepper             1 tablespoon
Corn flour         1 tablespoon
Potato starch    1 tablespoon
Method:
1. Soak tofu in salted water, it will make tofu tastier.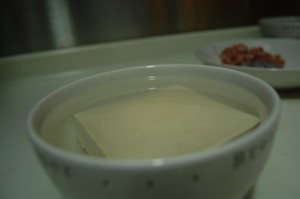 2. Dry tofu with napkins and mash well. I find it easier to mash with hand!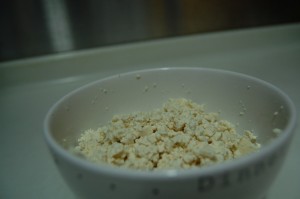 3. Soften mushrooms with water. You can leave the mushrooms in the water for about 15 mins.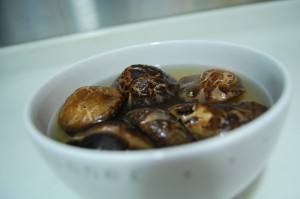 4. Remove the stems, pinch dry and chop mushroom finely. I find it easier to cut mushrooms with scissors.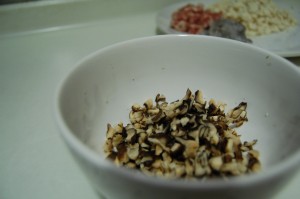 5. Shell shrimps and chop finely.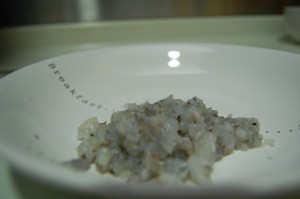 6. Combine minced meat, shrimp, mushrooms and tofu with egg and seasonings.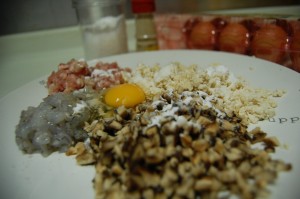 7. Cut buns into small cubes. This is the interesting part that will give the final dish a unique look. Remember that it is buns that we are using, not any normal bread. A bun is a Chinese way of baking bread but it is harder and holds its shape much better than Western bread.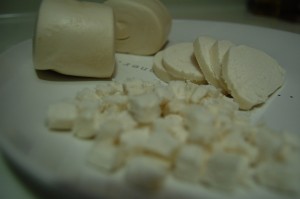 8. Mould tofu mixture into small balls and coat tofu mixture with diced buns. Remember to make the balls smaller, otherwise the mixtures won't be cooked thoroughly.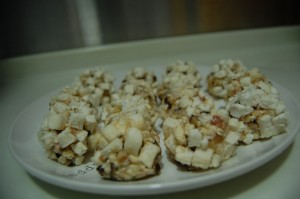 9. Deep-fry over medium heat till golden brown. Take note of any oil that might be spilling out.
10. Serve the dish. For the added punch in taste, I highly recommend that you serve with chilli sauce. Without this, the taste might be as ideal. Chilli sauce can be purchased at any Chinese supermarket in China town if you are not living in Asian cities.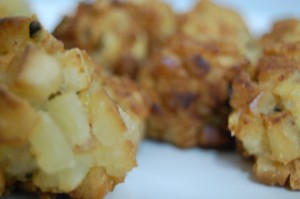 Preparation time   : 25 minutes (Cutting mushrooms and buns takes some time)
Cooking time         : 5 minutes
You will need more time to prepare this crispy tofu balls but it is one of the most delicious tofu dishes recipes! My husband love this tofu dish the best. Definitely worth my time and yours!
I have also tried some other tofu chinese dishes, you might want to try them too! Tofu and bean sprouts and Pan fried tofu.
Related posts: