This chinese soup is very easy to cook. You can cook this delicious chinese dish in 20 minutes!
Ingredients:
Salted vegetables   100 gram
Silken tofu              1 box (300 gram)
Minced meat           200 gram
Water chestnut       100 gram
Potato starch          1 tablespoon
Seasonings:
Salt                          A little
Light soy sauce       1 tablespoon
Sesame oil              1 tablespoon
Pepper                    A little
Method:
1. Soak salted vegetables in water.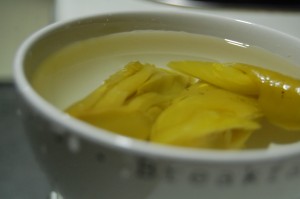 2. Slice salted vegetables.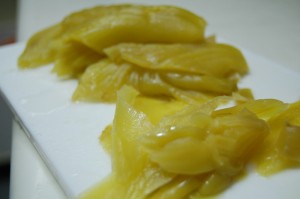 3. Cut tofu into small cubes.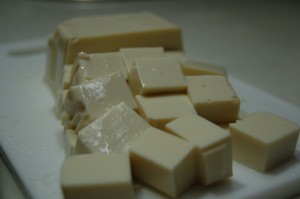 4. Peel water chestnuts and dice them.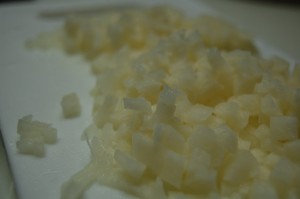 5. Mix minced meat, water chestnuts, potato starch and seasonings.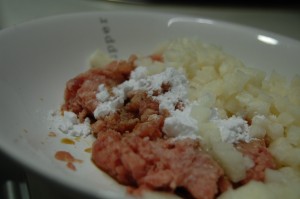 6. Mould mixtures into meatballs.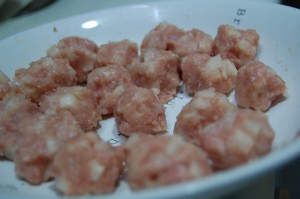 7. Bring water to boil and add salted vegetables, meatballs and tofu to cook for 10 minutes. Season with salt and pepper.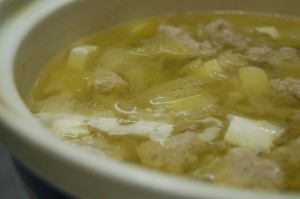 Preparation time: 10 minutes
Cooking time : 10 minutes
Chinese soups are easy to cook and they contain high nutrition. Chinese see soups as an important part of our daily diet and I hope you will enjoy them too. If you like this tofu soup recipe, stay tuned as I am about to prepare more soup recipes!
Related posts: